Freelance Artist | Cis Female | Dutch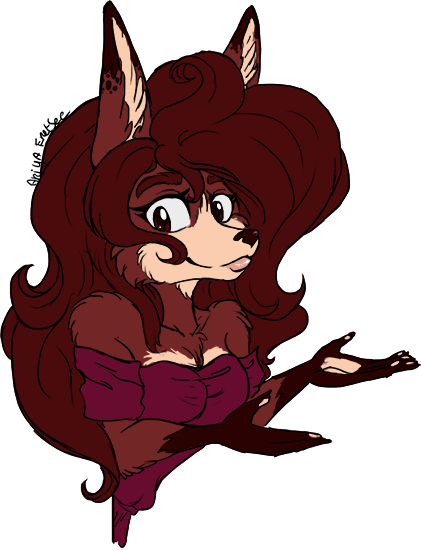 Hello there, welcome!Online I call myself "Ariya Eretsee" and I am a hobbying little artist originating from the land of the Dutch.
Here I hope I can give a little info about myself for those interested, what I do and where you can find me.I suffer from a pesky chronic and crippling form of PTSD, with a mixed bag of mild other health problems. This means I have a distance from the regular job market. Nonetheless, I do creative volunteer work with people suffering from acquired brain injury and aphasia in my away from screen life.
With Art commission's I hope to carry the bills and save up for the nice things in life.
Current commission status: Closed
By ordering a commission from me you agree to my ToS
All payments are handled through the use of paypal.
Prices may change without prior warning
I will do
SFW
Anthro/Furry
Human(oid)
Fantasy races
Mobians (Sonic)
Chibi
Text-only references
Will do but weak at
Feral anatomy
armory
sci-fi
complex posing
I won't do
NSFW/18+ of any sexual nature
Violence/gore Rated R and up
Content intended to shock
Anything intended to hurt or insult others
28 February 2023: Tentative new price list
Sketch
---
Bust $8

Half Body $15

Full Body $20
Flats
---
Bust $15

Half Body $30

Full Body $35
Simple/Cel Shading
---
Bust $25

Half Body $40

Full Body $50
Full Shading
---
Bust $35

Half Body $55

Full Body $70
Inking
---
Bust +$2

Half Body +$5

Full Body +$7
Complexity Fees
I apply Complexity fees to complicated orders such as intricate characters, outfits and props. Examples include but are not limited to a multitude of patterns, refined and heaps of jewelry or armory.
Sketch +10%

Flats +20%

Simple Shading +35%

Full Shading +40%
Extra characters
I don't accept more then 3 characters in one drawing, I don't discount additional characters at this time.
Pre-existing lines
Own a sketch by me you want me to progress? Perfectly fine to commission me for this. Deduct the sketch price from your final order.
With permission of the original artist, I also accept working on sketches and lines done by other artists.
Text-only or Design work
I accept text-only commission orders, but I do ask you to be extra specific or accept creative freedom when sending me out blind. Color codes or google images to convey what you want are a great aid if you have something specific in mind, but letting my muse take the reigns is perfectly acceptable too. Everything that is left to my interpretation does mean you revoke the option to have me "fix it" but I am always open to reasonable requests and tweaks.
Backgrounds
Simple gradients, pattern or basic shape BG's are free. Below pricing are for BG's that involve me adding in sufficient extra time to create your order such as props and scenery. Listed prices are starting prices.
Sketch $10 +

Flats $15+

Simple Shading +$30

Full Shading +$50
Inking
I don't ink (Black lines) by default, if you want me to ink your order apply the ink price on top of your order.
Cel shading
By default, I do soft shading. Please specify in your order if you want me to do Cel shading instead.
Don't see what you are looking for?
A Simple front & back flat color ref sheet I offer at $50. For things not listed here or anything else you have seen me do before just ask me. This includes if you'd like a custom quote for things or if you feel what you want doesn't fall into anything already listed.
A quick grab from my more recent works, visit my DA for a more expansive collection.
I put more time and texturing into a full shading, below are some comparisons. Simple on the left, Full on the right.
A form to order is in the works, for now contact me directly to order.
To order or discuss details please contact me at [email protected], know me on Discord? Feel free to contact me there. All other channels will not promise a speedy response.
Crazy Ariya and where to find her
I mostly float around the discord belonging to foxglove webcomics, which is an amazing kind-natured group of people that I highly recommend. I post more commonly on twitter and I keep my DA gallery as "the long storage".